War Relief In Ukraine
Ukraine has been defending itself from Russian attacks for over 9 years, but now this conflict has grown to a whole new level and there is a nationwide assault on civilians and residential neighborhoods. Millions of innocent people are running for their lives, in constant fear of rocket, missile, drone, artillery and aircraft attack!
Your donations will help us continue to provide for the needs of these precious people.
We are actively helping in the following ways:
Locating and rescuing those in conflict areas.
Providing safe transport of evacuees and refugees away from conflict zones to our facilities in the west or to the border.
Providing housing and shelter for those displaced from their homes.
Providing food, clean water, medical care and humanitarian aid for those in need and their affected communities.
Providing water filters to areas that no longer have clean or safe water.
Purchasing supplies for and working in partnership with other agencies helping with evacuations and medical aid.
Providing long term relief and rebuilding efforts.
Developing PTSD training and treatment programs designed specifically for children and families.
Organizing and planning for future trips to provide trauma camps, medical aid, humanitarian aid and disaster clean-up and rebuilding.
TO PROVIDE ANY OF THE ABOVE SERVICES, MATERIALS AND RELIEF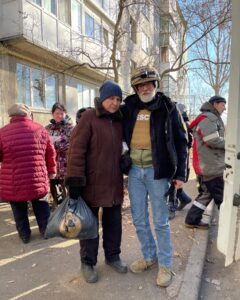 The United Nations Children's Fund (UNICEF) estimates as of October 2022:
7.6 million refugees abroad, 90% of whom are children = 6,840,000 child refugees abroad.
6.5 million refugees Internally Displaced (IDP), 62% of whom are children = 4,030,000 child IDP's.
Total children displaced = 10,870,000 children
https://data.unhcr.org/en/situations/ukraine
Please visit our social media pages for DAILY UPDATES from us and our teams on the ground in Ukraine. Be sure to "Like", "Share" and "Subscribe" to our social media pages so others will know how they can help the people of Ukraine during these horrific times!
Facebook: Mission823    Instagram: Mission823inc    YouTube: Mission823
Video Archive of Mission 823's
War Relief Campaign